Pacific Map 1.1.1
for ATS
by TerraMaps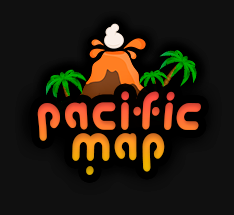 Welcome to the step-by-step installation process for downloading and enjoying Pacific Map by TerraMaps for American Truck Simulator. Please follow each step to ensure Pacific Map works in your simulator.
Ensure you have all the following ATS DLC's: Colorado, Idaho, Utah, Arizona, Washington, New Mexico, and Oregon.
Wyoming is not required for Pacific Map to work, however, Pacific Map is fully compatible with Wyoming.
VERSION 1.1.1: Aloha, Honolulu! and the Republic of Palau

STEP 1: DOWNLOAD THE DEF/MAP FILE (OR PREMIUM DOWNLOAD)
The first step is to download the def/map file for Pacific Map:
https://terramaps.net/download/
The Def/Map file is approximately 150MB and takes about 5 to 15 minutes (depending on your internet speed) to download on our sharemods account, but under 15 seconds to download all required files (including models all in a zip file) on our premium link and includes all of the files you need to run Pacific Map. Our premium link only cost .75 USD (75 cents) which helps fund our server costs to host this option as well as supports our development and modeling team and other paid addon features we'd like to add for TerraMaps and we really appreciate it.
Patrons receive a free download link through Discord.
Note: Both premium download and free download links have identical versions.
EXTRA STEP: BUFFER SIZE
TO AVOID CTD'S:
go to American Truck Simulator in our "Documents" folder, open config.cfg in Notepad, find uset r_buffer_page_size and change it to at least "20" or higher (if the number is at 10, you may get a CTD in Honolulu as it is very high quality)
---
STEP 2: DOWNLOAD THE MODELS FILE
SKIP THIS STEP IF YOU CHOSE THE PREMIUM DOWNLOAD
(the files are all included in the .zip file you received after purchasing the download)
After obtaining the
Pacific Map.scs
file, now it's time to download the models file (DO NOT SKIP THIS FILE). This model pack is essential for Pacific Map to work properly and without it, it will not work.
Once you have both files, drop the two scs files in your Documents/American Truck Simulator/mod folder.
Download Link -
https://terramaps.net/download/
---
STEP 3: BACKGROUND MAP
At this time, there is no background map that will draw an outline of Hawaii. However, the coordinates and where Honolulu is placed is exactly where it should be according to the game projection, so when Bengan and DOWL finish their respective updates of their background maps, Pacific Map will reflect an accurate location per their projections in ATS.
In the meantime, we still require at this time to choose a background map from DOWL so you can freely move your map over Hawaii.
Without a background map, you will not be able to scroll to Honolulu on your UI map.
If you also use Caribbean Map, you will definitely need one of the following background maps as well:
ProMods (DOWL) Download Link:
---
STEP 4: LOAD ORDER
Please visit our recommended ATS load order post here:
https://terramaps.net/forum/threads/ats-1-43-recommended-combo-by-terramaps.120/
Make sure Def/Map is above Models.
---
Enjoy Pacific Map for ATS by TerraMaps! Should you require any assistance, don't hesitate to reach out to our Support Team:
Discord (use @support):
https://discord.gg/jxQyhwhCqD
Email:
[email protected]
Forum:
hhttps://terramaps.net/forum/forums/support.57/
Please only utilize one of the above methods of reaching out to support that you'd prefer. They are all monitored equally, but Discord is proven to be the fastest response rate.
Drive safe and thank you for letting us expand your truck sim today! Happy Trucking!
Last edited by a moderator: