COO, Admin
Staff member
Admin
Support
Patron
Official Partner
Joined

Apr 4, 2021
Messages

514
Reaction score

230
Location
Website
- Version 1.2 for 1.39/2.51:
https://sharemods.com/6jf4sf45cogr/Redsea_1.2.scs.html
Required DLC's
---------------------------
All 6 SCS DLC's
Required Map Mods Red Sea Map 1.2.
---------------------------
- ProMods 2.51
- ProMods Middle East Add-On 2.51
Mod Reshare Sites READ
Remember to always download map mods from their official links, not mod reshare sites. Also, all of our maps are protected by our EULA and DMCA takedown notices, ISP notifications, and other civil legal actions will be pursued for those reuploading TerraMaps' mods without prior written permission. If a mod resharer is interested in posting our link, feel free to reach out to Project Manager Pilot. Everyone who downloads our maps agrees with the conditions set forth in the EULA, found here
:
https://cdn.discordapp.com/attachments/712547695163867178/791544672333463582/TerraMaps_EULA.pdf
Progress
24 DEC 2020:
- Patch version 1.2 is released. Compatibility is added for 1.39 and PM 2.51 along with Al Bad' added in Saudi Arabia, St. Catherine added in Egypt, and a BETA version of El Tor added as well!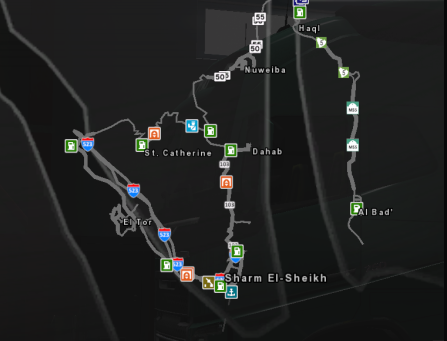 23 OCT 2020:
- Patch Version 1.1.1 is released. It contains Nuweiba rebuilt, mountains and terrain redone from Taba to Sharm el Sheikh, VolgaMap bug fixed, and ferry in Sharm opened to allow for ferry mods to connect to Sharm el Sheikh, if applicable.
10 SEP 2020:
- Version 1.1 is released. It contains Sharm El-Sheikh, some adjustments to Nuweiba and the roads connecting the cities.
30 AUG 2020:
- Red Sea Map is officially released. Version 1.0 contains the road connection south of ProMods ME 2.50's Taba, the city of Nuweiba, and the small town of Dahab. Special thanks to our beta testing team who worked diligently and hard this past week to get this map released to patient fans! Expand your ETS2 map, we'll keep it going down through Africa!
20 MAY 2020:
- Discord and ProMods WIP Forum Post made to engage the community
- Road to Nuweiba, Red Sea Map's first city, complete. Construction on Nuweiba is currently in progress. I will most likely release it once Nuweiba is complete to provide a teaser for what's to come.
Expand your ETS2 today!
Last edited by a moderator: