Red Sea Map
by TerraMaps
NOTE: By downloading our maps, you agree to our EULA (
https://terramaps.net/TerraMaps%20EULA.pdf
) terms and conditions. Per our EULA, it is against the law to reupload Red Sea Map or any map created by TerraMaps without the explicit written permission by a member of the Board of Advisors. Anyone who uploads the content downloaded here, either modified or unmodified, will receive a DMCA takedown request, their ISP notified, and if applicable, other legal actions. We are very strict about this and will take action against resharers and reuploaders. Any YouTube video that links to any unauthorized link will receive a copyright takedown notice as well. Any questions, reach out to info@terramaps.net.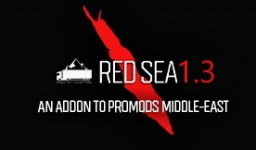 Welcome to the step-by-step installation process for downloading and enjoying Red Sea Map by TerraMaps for Euro Truck Simulator 2. Please follow each step to ensure Red Sea Map works in your simulator.
VERSION 1.3: The Road to Sudan

STEP 1: DOWNLOAD RED SEA MAP
The first step is to download the Red Sea Map by TerraMaps.
Version 1.3 compatible with ProMods Middle East 2.55a, ETS2 1.40, and all DLC's including Iberia are required.
Premium Download Link No Ads or Pop Ups
(€1 EUR/$1.20 USD Donation)
-
https://store.payloadz.com/details/2662040-software-games-red-sea-map-1-3-by-terramaps.html
Free Download Link
-
Click here (ad-based, Sharemods)
This file is approximately 400MB and takes about 10 minutes (depending on your internet speed) to download on our sharemods account, but under 20 seconds on our premium link and includes all of the files you need to run Road to Asia. Our premium link only cost a euro which helps fund our server costs to host this option as well as supports our development and modeling team and other paid addon features we'd like to add for TerraMaps and we really appreciate it. Patrons receive a free download link.
Note: Both premium download and free download links have identical versions.
---
STEP 2: PROMODS AND PROMODS MIDDLE EAST
SKIP THIS STEP IF YOU ALREADY HAVE THE MOST UP TO DATE PROMODS AND PROMODS MIDDLE EAST MODS
Visit:
https://promods.net/
to follow the instructions for downloading and setting up ProMods and ProMods Middle East Addon.
---
STEP 3: BACKGROUND MAP
In order to be able to freely move around the world map and see cities and roads where they should accurately be, we work with Bengan's Maps and strongly recommend everyone who enjoys expanding their truck sim to utilize his maps. (Please note, The South Sinai and everything down to Muhammad Qol is aligned with ProMods' background map)
Download Link:
https://roextended.ro/forum/viewtopic.php?f=9&t=20
---
STEP 4: LOAD ORDER
The basic load order is as follows:
...other mods
Red Sea Map
ProMods Middle East def/map
ProMods Middle East assets
ProMods base pack
For more maps in a load order, check out:
https://terramaps.net/forum/threads/ets-2-1-40-basic-map-combo-by-terramaps.41/
Enjoy Red Sea Map by TerraMaps! Should you require any assistance, don't hesitate to reach out to our Support Team:
Discord (use @support):
https://discord.com/invite/kvqE3z3
Email:
support@terramaps.net
Forum:
https://terramaps.net/forum/forums/support.17/
Please only utilize one of the above methods of reaching out to support that you'd prefer. They are all monitored equally, but Discord is proven to be the fastest response rate.
Drive safe and thank you for letting us expand your truck sim today! Happy Trucking!
Last edited: