COO, Admin
Staff member
Admin
Support
Patron
Joined

Apr 4, 2021
Messages

452
Reaction score

225
Location
Website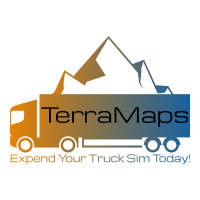 [REL] Red Sea Map 1.3.3. for ETS2 1.43/ Promods(ME) 2.60 by TerraMaps
TerraMaps is proud to present Red Sea Map 1.3.3
​

This map mod will connect the ProMods ME road from Taba south into a whole new area on ETS including cities up and down the Red Sea coastline.
The Red Sea is famous for its beautiful and extensive coral reefs, including along the coasts of Egypt and Sudan. These coastal reefs are among the richest coral reefs in the world.
DOWNLOAD LINK
Download:
https://terramaps.net/download/
(Premium Link is updated for 1.3.3 and includes both def/map and assets)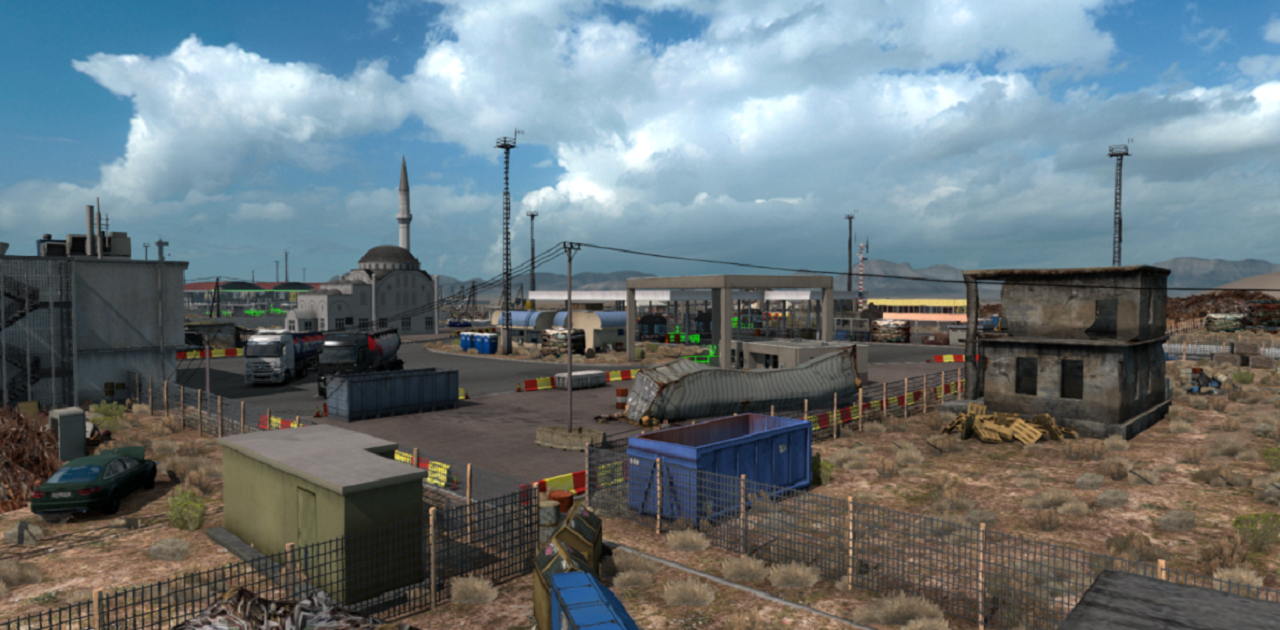 Required DLC's
---------------------------
All 6 SCS DLC's
Required Map Mods
---------------------------
- ProMods 2.57
- ProMods Middle East Add-On 2.57
Background Map
----------------------------
In order to be able to freely move around the world map and see cities and roads where they should accurately be, we work with Bengan's Maps and strongly recommend everyone who enjoys expanding their truck sim to utilize his maps. (Please note, The South Sinai and everything down to Muhammad Qol is aligned with ProMods' background map)
Download Link:
https://roextended.ro/forum/viewtopic.php?f=9&t=20
As an alternate, you can instead use the ProMods High Quality Extended Map which centers around ProMods' compatible load order map mods and ensures all cities are in an accurate location. This background map can be downloaded easily through the steam workshop.
Download Link:
https://steamcommunity.com/sharedfiles/filedetails/?id=2486307769
Older Versions
--------------------------------------------
Older versions can be downloaded here:
Load Order
--------------------
- Place Red Sea Map Mod directly above PMME in the Mod Manager
SUPPORT
If you find any bugs or have any problems please post them in the #Support channel on our Discord channel or in our Forum page
Discord (use #support):
https://discord.gg/jxQyhwhCqD
Email:
[email protected]
Forum:
https://terramaps.net/forum/
Please only utilize one of the above methods of reaching out to support that you'd prefer. They are all monitored equally, but Discord is proven to be the fastest response rate.
PLAN
The image below shows a preliminary plan with realistic "starter map project" goals. In the future, we can expand to Ethiopia and South Sudan and who knows the potential as the road networks in East Africa are not only simple to build but very fun. Precision and detail to the 1:19 scale is given as well.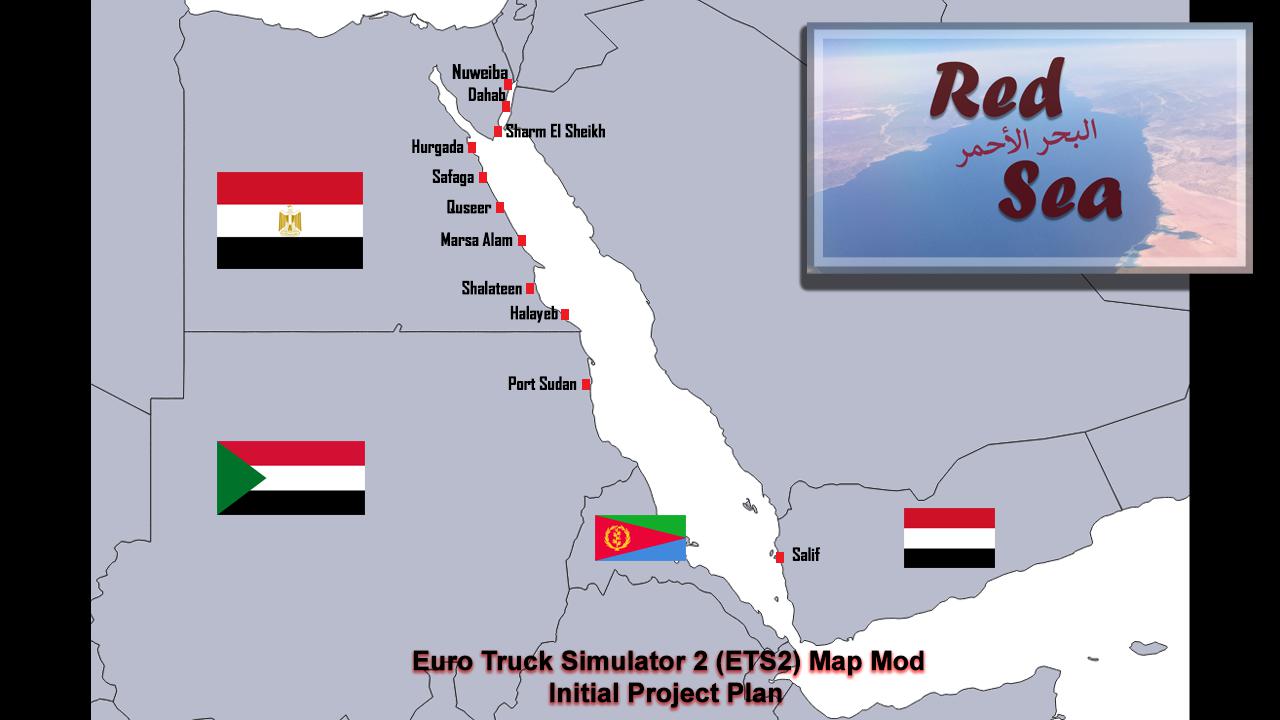 Progress
24 DEC 2021
Version 1.3.3 is released
- Compatibility fix applied for ETS2 1.43/ Promods 2.60
27 OKT 2021
Version 1.3.2 is released
- Compatibility fix applied for ETS2 1.42/ Promods 2.57
24 JUL 2021
Version 1.3.1 is released
- Compatibility fix applied for ETS2 1.41/ Promods 2.56
Content Changes:
- Added an Assets File (place below Red Sea Def/Map)
- Added Al-Muweilah in Saudi Arabia
4 JUN 2021
Version 1.3 is released. Offcial Changelog for Red Sea 1.3:
EGYPT
Existing Country
-El Tor (Reworked City);
-Hurghada;
-Safaga, Port Safaga;
-Al Qusayr;
-Marsa Alam;
-Shalaten (Al Shalaten City);
HALA'IB TRIANGLE DISPUTED REGION
New Region
-Halayeb.
SUDAN
New Country
-Muhammad Qol.
SAUDI ARABIA
Existing Country
-Alsharaf;
-Alkhuraybah.
-Al Muweileh
28 MAR 2021
- Patch Version 1.2.2 is released. Updated compatibility for 1.40 and ProMods Middle East 2.52/2.55
24 DEC 2020:
- Version 1.2 is released. Compatibility is added for 1.39 and PM 2.51 along with Al Bad' added in Saudi Arabia, St. Catherine added in Egypt, and a BETA version of El Tor added as well!
23 OCT 2020:
- Patch Version 1.1.1 is released. It contains Nuweiba rebuilt, mountains and terrain redone from Taba to Sharm el Sheikh, VolgaMap bug fixed, and ferry in Sharm opened to allow for ferry mods to connect to Sharm el Sheikh, if applicable.
10 SEP 2020:
- Version 1.1 is released. It contains Sharm El-Sheikh, some adjustments to Nuweiba and the roads connecting the cities.
30 AUG 2020:
- Red Sea Map is officially released. Version 1.0 contains the road connection south of ProMods ME 2.50's Taba, the city of Nuweiba, and the small town of Dahab. Special thanks to our beta testing team who worked diligently and hard this past week to get this map released to patient fans! Expand your ETS2 map, we'll keep it going down through Africa!
20 MAY 2020:
- Discord and ProMods WIP Forum Post made to engage the community
- Road to Nuweiba, Red Sea Map's first city, complete. Construction on Nuweiba is currently in progress. I will most likely release it once Nuweiba is complete to provide a teaser for what's to come.
Everyone, I want to thank you for your support and being fans of TerraMaps projects. Red Sea Map started with a simple road down to Nuweiba, and we have a lot of development going on for future updates already! Thank you and I hope everyone enjoys it.
Expand you trucksim today.
Best regards,
TerraMaps
Last edited: