COO, Admin
Staff member
Admin
Support
Patron
Joined

Apr 4, 2021
Messages

305
Reaction score

162
Location
Website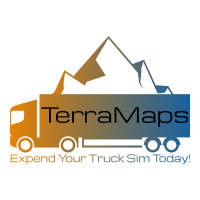 [REL] Road to Asia v1.3.1 ETS2 1.44 by TerraMaps
Welcome to the Road to Asia!
It is with great pleasure we announce that
Road to Asia v1.3.1 for ETS2 1.44 has officially been released!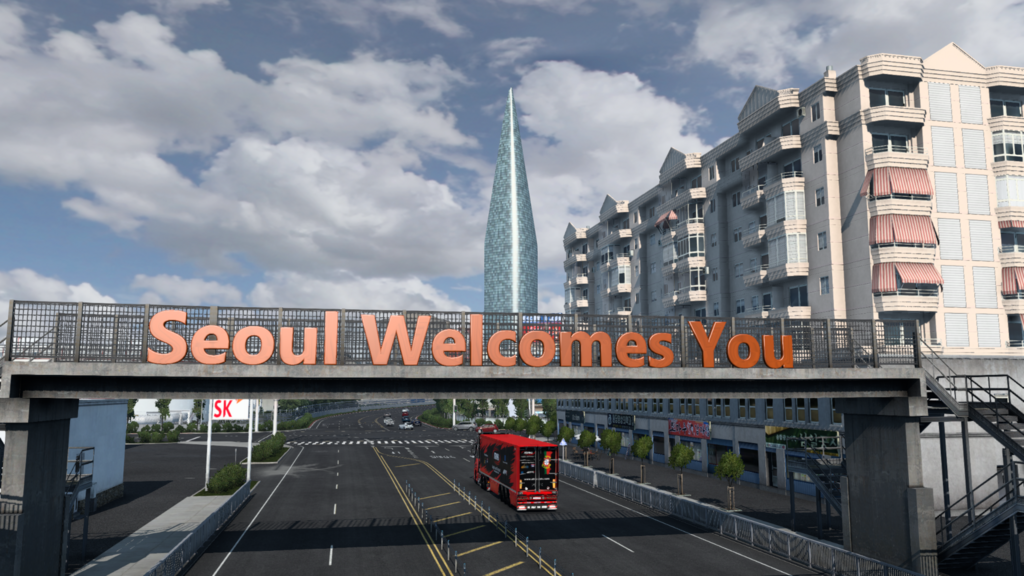 ​
EULA/Mod Reshare Disclaimer: DO NOT reupload our map. It's covered under EULA and we do take swift action. We are going right to your ISP behind your CloudFlare accounts, so just don't do it. You are welcomed to showcase our map but it must point to our main download page. You know the drill.
Consider our premium download
. Due to the increase in server costs and file size and usage of downloads, we have had to increase the prices of our maps. However, remember the premium downloads save you time so you can enjoy our maps quicker with a single zip file with all needed files to just drag and drop in your mod folder and it directly funds our maps and future expansion plans and helps us cover costs and expenses. Here are the new changes and the average download speeds:
Speeds depend on network usage and speed, but will be quicker than ShareMods
Road to Asia - $2.00 USD - 1.8GB in about 1 minute or less
Become a Patreon of TerraMaps
Like what you see? Consider supporting our project as a Patreon! We offer 3 tiers for all kinds of supporters! Your funding not only directly helps us expand and keep the energy going, but also involves you directly with our progress!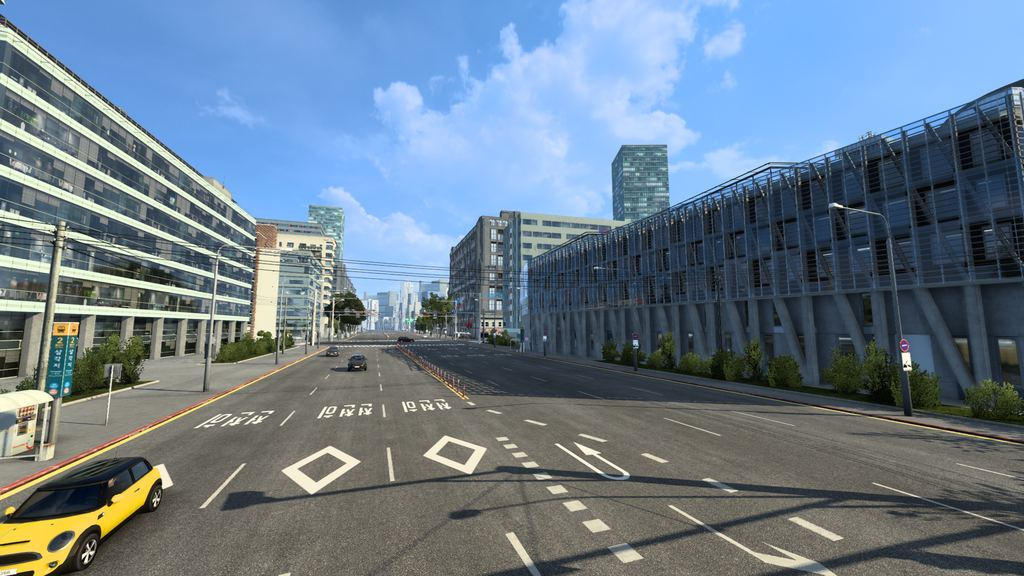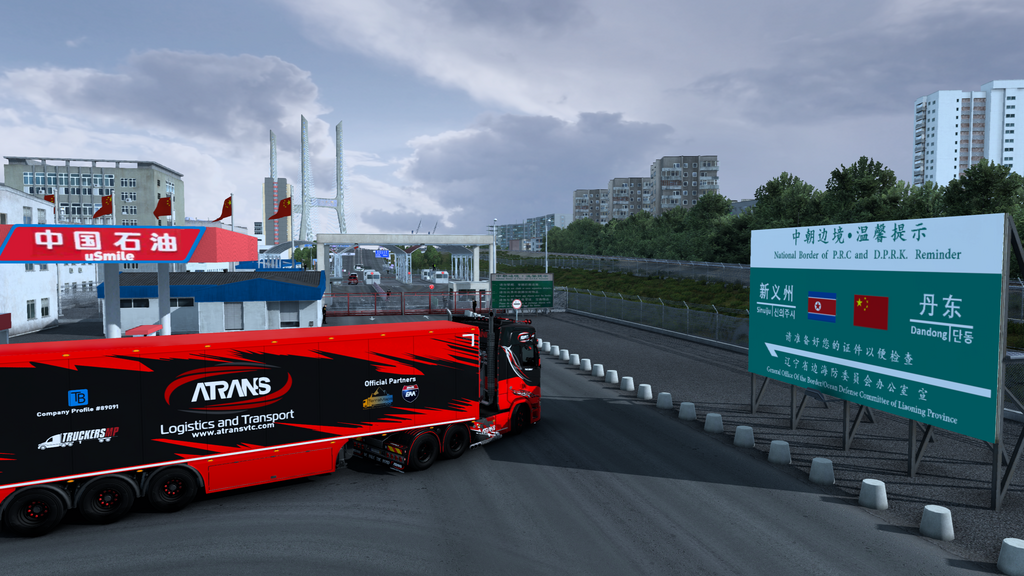 What areas is our map included?
Road to Asia Version 1.3.1: features more of South and North Korea and China. (East Asia update)
Content Added:
Changelog 1.3.1:
- Updated compatibility for ETS2 1.44
- License plates upgraded including localized Chinese license plates
- Humvee police car adapted in Afghanistan as well as AI traffic
- Bugs from 1.3 patched
- Added Chongju and Sinuiju locales missing from 1.3
- Added North Korean traffic policewoman in Pyongyang
- Road signs upgraded with higher quality and pseudo-distance
- South Korean font converted to NanumSquare
- Updated company logos to higher quality imagery
Change Log for 1.3:
- New cities: Seoul, Incheon (SK), Chongju, Sinuiju (NK), Dandong, Dalian (CN)
- Bugs fixed from 1.2/1.2.1
- New ferry/rail makeup, Dalian Port is now the new Ferry Hub, Valencia Optional Ferry Mod will drop Turkmenbashi and instead have Valencia-Dalian instead, from there, take a railway from Dalian to Wuqia to enjoy the rest of Road to Asia (or use TGS for constant road connections from Europe to Asia)
- Rail line from Balkanabat closed. Rail connection between Wuqia and Dalian opened
- New models (Yurts, Chinese style houses, Korean landmarks and shops, Dynamic Billboards in Seoul, and many more props)
- New signage in Pakistan
- New signage in Xinjiang with Uygher language
- Prefabs and other fixes from 1.2/1.2.1
- Locale fixes from 1.2/1.2.1
- Border areas with localized police and custom officers
- Custom terrain/Afghanistan desert reworked
- Overlays added in Tajikistan
Support
To crush the most common support questions here are a few things you can check before you add this mod to your combo.
1)Follow the step-by-step installation process for downloading and enjoying Road to Asia by TerraMaps for Euro Truck Simulator here:
https://terramaps.net/forum/threads/road-to-asia-1-3-1-for-ets2-1-44-official-download.141/
Please follow each step to ensure Road to Asia works in your simulator.
2)We only support the maps that we have in the TerraMaps ETS2 Recommended Load Order 1.44:
https://terramaps.net/forum/threads/ets2-1-43-recommended-map-combo-by-terramaps.121/
If you use other maps check other common used load orders like the ones from RoExtended
https://roextended.ro/forum/viewforum.php?f=15
And we kindly ask you to ask the combo owner for futher support
3)The RTA121 Prefab update (Fix) and the AZGE-RTA Ferry Connection is no longer needed
Please remove it from your load order
By removing AZGE-RTA Ferry Connection from the load order, you will get the Dalian connections back, and still not lose Baku-Turkmenbashi. This is because Baku-Turkmenbashi is now included directly in the main RTA files, no extra Connection mod needed.
4)TO AVOID Crashes go to Euro Truck Simulator 2
in our "Documents" folder, open config.cfg in Notepad, find uset r_buffer_page_size and change it to at least "30" or higher
(if the number is at 10, you will get a CTD in Ashgabat, Pyongyang, Seoul, and Dandong)
5)Recommended specs for Seoul, Dandong, Ashgabat, and Pyongyang:
- CPU: Intel i5 6600 or AMD Ryzen 5 (1st gen)
- GPU: Nvidia GTX 1070 series or greater (or AMD equivalent)
- SSD is recommended, need at least 13GB of free space for ETS2 + required DLC + Road to Asia mod
- Memory: 8GB of DDR3 or DDR4 RAM
6)Background Map
In order to be able to freely move around the world map and see cities and roads where they should accurately be, we work with Bengan's Maps and strongly recommend everyone who enjoys expanding their truck sim to utilize his maps. Download Link:
https://roextended.ro/forum/viewtopic.php?t=20
You can also instead use the ProMods High Quality Extended Map which centers around ProMods' compatible load order map mods and ensures all cities are in an accurate location. This background map can be downloaded easily through the steam workshop. Download Link:
https://steamcommunity.com/profiles/76561198871072015/myworkshopfiles
7)If you have done all this and you still equire any assistance, don't hesitate to reach out to our Support Team:
Discord (use @terramaps-support):
https://discord.gg/jxQyhwhCqD
Email:
[email protected]
Forum:
https://terramaps.net/forum/forums/support.57/
Please only utilize one of the above methods of reaching out to support that you'd prefer. They are all monitored equally, but Discord is proven to be the fastest response rate
Progress
20 JANUARY 2021:
- Road to Asia many of you have been following has joined forces with TerraMaps!
20 May 2021
- Road to Asia version 1.0.1 is released
19 JULY 2021
- Road to Asia version 1.0.2 is released
-Compatibility fix applied for ETS2 1.41, Baku ferry for AZGE from Turkmenbashi added, Vanilla version discontinued and merged with Flagship version. Assets file also upgraded to 1.41
26 AUGUSTUS 2021:
- Road to Asia version 1.1. is released.
Turkmenistan Complete, Afghanistan and both Korea's.
4 SEPTEMBER 2021:
- Road to Asia version 1.1.1 is released.
Bug fixes update and Added Nampo-Jakarta Ferry (JRR) and Nampo-Salvador Ferry (EAA)
22 OKTOBER 2021
- Road ot Asia version 1.1.2 is released
- Compatible with 1.42 and convoy ready
- Fixed some errors and bugs in the assets files
2 NOVEMBER 2021
-Road to Asia version 1.1.4 is released
- Patched bugs found in previous versions, prevented CTD chances in Ashgabat and Tejen, fixed signage and compatibility with SibirMap
- Added OpenGL compatibility (expect minor issues with black police cars etc, will fix in next version)
18 DECEMBER 2021
- Road to Asia version 1.2 and 1.2.1 is released.
- more of Turkmenistan and Afghanistan as well as Tajikistan and parts of Kyrgyzstan, Uzbekistan, Iran, Pakistan, and western China
11 MARCH 2022
- Road to Asia version 1.3 is released.
- New cities: Seoul, Incheon (SK), Chongju, Sinuiju (NK), Dandong, Dalian (CN)
17 MAY 2022
- Road to Asia version 1.3.1 is released.
- Updated compatibility for ETS2 1.44
- Bugs from 1.3 fixed, Humvee police car adapted and Road signs upgraded with higher quality and pseudo-distance.
On behalf of the TerraMaps Development team thank you all for the HUGE support and hype you guys have been giving to Road to Asia. We read your messages everyday, and it certainly motivates us to keep mapping
Thank you guys! We wouldn't be here if it weren't for you guys.
The entire team at TerraMaps enjoyed making this map for you all! Please enjoy it and as always, thanks for letting TerraMaps expand your truck sim today
Last edited: