Road to Asia
by TerraMaps
Welcome to the step-by-step installation process for downloading and enjoying Road to Asia by TerraMaps for Euro Truck Simulator 2. Please follow each step to ensure Road to Asia works in your simulator.
VERSION 1.0.1: Gateway to the Asian Continent / The Balkan Region of Turkmenistan

STEP 1: ASSET FILE
The first step is to download the asset file for Road to Asia.
If you've downloaded the Asset file before, you do not need to download it again for future updates. This asset file is compatible with 1.39 and 1.40.
Premium Download Link for all SCS files
(€1 EUR/$1.20 USD)
-
terramaps.net/downloads/rtasia
Free Download Link for Assets
-
https://sharemods.com/iernwnheasoo/Road_to_Asia_Assets.scs.html
This file is approximately 900MB and takes about 20 to 30 minutes (depending on your internet speed) to download on our sharemods account, but under 20 seconds on our premium link and includes all of the files you need to run Road to Asia. Our premium link only cost a euro which helps fund our server costs to host this option as well as supports our development and modeling team and other paid addon features we'd like to add for TerraMaps and we really appreciate it.
Patrons receive a free download link through Discord.
Note: Both premium download and free download links have identical versions.
---
STEP 2: SELECT YOUR VERSION (1.0)
SKIP THIS STEP IF YOU CHOSE THE PREMIUM DOWNLOAD
After obtaining the
Road to Asia Assets.scs
file, whether you downloaded it today or in a previous version, now it's time to download the main map content for Road to Asia. We offer different versions depending on how you'd like to enjoy Road to Asia.
ONLY CHOOSE ONE:



FLAGSHIP VERSION
Version 1.0.1V - road connection from Great Steppe and RusMap to Garabogaz, Turkmenistan (RECOMMENDED)
Patch version for Garabogaz sign model issue
Download Link -
https://sharemods.com/cjgvql96gxwv/Road_to_Asia_1-0-1.scs.html
VANILLA VERSION
Version 1.0.1V - vanilla version with a ferry connection from Calais, France to Turkmenbashi, Turkmenistan, 1.0.1 patched for Garabogaz sign model issue
Download Link -
https://sharemods.com/nxsz6p3bg5r3/Road_to_Asia_1-0-1_Vanilla.scs.html
---
STEP 3: ROAD CONNECTION MODS
If you chose our flagship version which will require Great Steppe and RusMap to ensure a proper connection to Road to Asia territory, then please be certain you have the most up to date map mods. Although only Great Steppe and RusMap will be required to complete a drive to Road to Asia, we also recommend adding ProMods and Red Sea Map.
Please view the following post for the download links and load order:
Hello everyone, I want to present my first and the basic mapcombo/load order supported by TerraMaps. In this mapcombo we only use the most important maps for ETS2. We know that there are many more mapcombos out there with more maps. And we especially want to encourage you to try it out...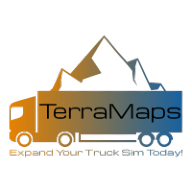 terramaps.net
If you chose the Vanilla version, you may skip this step and move onto step 4.
AZGE Addon (RoEx) Ferry Connection:
Place directly above Road to Asia files (above DEF/MAP)
This provides a direct ferry connection between Baku, Azerbaijan and Turkmenbashi, Turkmenistan.
To download AZGE Addon by RoEx, go to:
https://roextended.ro/forum/viewtopic.php?f=3&t=2111&p=42590#p42581
---
STEP 4: BACKGROUND MAP
In order to be able to freely move around the world map and see cities and roads where they should accurately be, we work with Bengan's Maps and strongly recommend everyone who enjoys expanding their truck sim to utilize his maps.
Download Link:
https://roextended.ro/forum/viewtopic.php?f=9&t=20
Even with Vanilla version, you will need a background map otherwise you may not be able to view the garages to buy in Road to Asia.
---
STEP 5: LOAD ORDER
If you chose the vanilla version, make sure DEF/MAP is above ASSETS in your mod manager and
below
any steam workshop mods, background maps, and other non map mods.
If you chose our flagship version, use any appropriate load order that works for you, but what we have tested in an official testing environment is:
...other mods
ProMods (if applicable)
RusMap def (if using ProMods)
Road to Asia DEF/MAP
Road to Asia ASSETS
The Great Steppe def
The Great Steppe map
The Great Steppe model
Enjoy Road to Asia by TerraMaps! Should you require any assistance, don't hesitate to reach out to our Support Team:
Discord (use @support):
https://discord.com/invite/kvqE3z3
Email:
support@terramaps.net
Forum:
https://terramaps.net/forum/forums/support.17/
Please only utilize one of the above methods of reaching out to support that you'd prefer. They are all monitored equally, but Discord is proven to be the fastest response rate.
Drive safe and thank you for letting us expand your truck sim today! Happy Trucking!
Last edited: