Road to Asia 1.2/1.2.1
by TerraMaps
Welcome to the step-by-step installation process for downloading and enjoying Road to Asia by TerraMaps for Euro Truck Simulator 2. Please follow each step to ensure Road to Asia works in your simulator.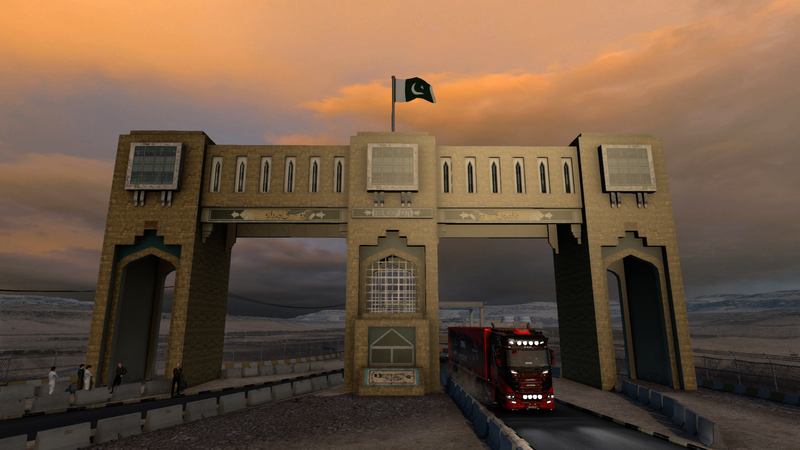 ​
Version 1.2 for ETS2 1.42 & 1.2.1 for ETS2 1.43
Compatible with ETS2 1.42 & 1.43. Includes more of Turkmenistan and Afghanistan as well as Tajikistan and parts of Kyrgyzstan, Uzbekistan, Iran, Pakistan, and western China. Valencia ferry is optional. No new updates have been given in East Asia to Korea, expect that in 1.3.
STEP 1: ASSETS AND MODELS FILES
The first step is to download the asset file for Road to Asia.
If you've downloaded the Asset file before, you still need to download it again for future updates. This asset file is compatible with Road to Asia 1.2/1.2.1 as well as required for Convoy Purposes and includes some def compatibility fixes. You also need the Models File. This shall be placed below the Assets File.
Version 1.2
Version 1.2.1
The Assets file is approximately 900MB and takes about 20 to 30 minutes (depending on your internet speed) to download on our sharemods account.
EXTRA STEP: BUFFER SIZE
TO AVOID CTD'S:
go to Euro Truck Simulator 2 in our "Documents" folder, open config.cfg in Notepad, find uset r_buffer_page_size and change it to at least "20" or higher (if the number is at 10, you will get a CTD in Ashgabat and Pyongyang)
---
STEP 2: DOWNLOAD THE DEF/MAP, THE FIX AND OPTIONAL FERRY TO VALENCIA
SKIP THIS STEP IF YOU CHOSE THE PREMIUM DOWNLOAD (the files are all included in the .zip file you received after purchasing the download)
After obtaining the
Road to Asia Assets.scs
and
Road to Asia Models.scs
file, now it's time to download the main map content for Road to Asia. We also offer a Ferry Connection (optional) for those who wish to have the ferry route from Valencia, Spain to Turkmenbashi, Turkmenistan. This is also recommended to make a Vanilla version of Road to Asia (without using any other map mods), but you can also add this optional ferry to have it in a map combo.
Fix for Map Combo's with Road to Asia
This fix/patch was made by Arayas from RoEx and temporarily patches the errors that were causing CTD's when using Road to Asia with some combos.
Place it above all Road to Asia files. Thank Arayas for the patch.
We will be implementing the fixes and other bugs reported in a patch update after the holidays! For now, you can utilize this SCS file in your mod manager to get RTA to work in your combos.
(Only use this if you are having issues getting your map combo to work with RTA)
---
STEP 3: ROAD CONNECTION MODS
Great Steppe for 1.39 and RusMap for 1.41 both work on 1.42 and connect smoothly to Garabogaz in Road to Asia, providing a road connection to the rest of Europe. Remember to place the Great Steppe-RusMap Road Connection Mod above RusMap, Great Steppe, and Road to Asia otherwise the road will be broken at Engelsk.
Please view the following post for the download links and load order:
https://terramaps.net/forum/threads...forum/viewtopic.php?f=3&t=2111&p=42590#p42581
---
STEP 4: BACKGROUND MAP
In order to be able to freely move around the world map and see cities and roads where they should accurately be, we work with Bengan's Maps and strongly recommend everyone who enjoys expanding their truck sim to utilize his maps.
Download Link:
https://roextended.ro/forum/viewtopic.php?t=20
You can also instead use the ProMods High Quality Extended Map which centers around ProMods' compatible load order map mods and ensures all cities are in an accurate location. This background map can be downloaded easily through the steam workshop.
Download Link:
https://steamcommunity.com/profiles/76561198871072015/myworkshopfiles
---
STEP 5: LOAD ORDER
If you chose the vanilla version, make sure DEF/MAP is above ASSETS in your mod manager and
below
any steam workshop mods, background maps, and other non map mods.
If you chose our flagship version, use any appropriate load order that works for you, but what we have tested in an official testing environment is:
...other mods
ProMods (if applicable)
RusMap def (if using ProMods)
Road to Asia Ferry Connection to Valencia (Optional)
Road to Asia DEF/MAP
Road to Asia ASSETS
Road to Asia MODELS
Soutern Region Def and Map
Soutern Region Model 1
Soutern Region Model 2
The Great Steppe def
The Great Steppe map
The Great Steppe model
---
OLDER VERSIONS: 1.41 VERSIONS
Check here:
https://terramaps.net/forum/forums/downloads.28/
---
Enjoy Road to Asia by TerraMaps! Should you require any assistance, don't hesitate to reach out to our Support Team:
Discord (use @terramaps-support):
https://discord.com/invite/kvqE3z3
Email:
[email protected]
Forum:
https://terramaps.net/forum/forums/support.57/
Please only utilize one of the above methods of reaching out to support that you'd prefer. They are all monitored equally, but Discord is proven to be the fastest response rate.
Drive safe and thank you for letting us expand your truck sim today! Happy Trucking!
Last edited by a moderator: