Caribbean Map
by TerraMaps

By downloading this map mod, you agree to the terms and conditions in our EULA, which include that you will not reupload, reshare, or copy any contents from the map.
See the EULA here.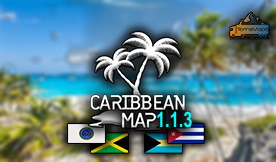 Welcome to the step-by-step installation process for downloading and enjoying Caribbean Map by TerraMaps for American Truck Simulator. Please follow each step to ensure Caribbean Map works in your simulator.
VERSION 1.1.3: Havana and Beyond

STEP 1: SELECT YOUR VERSION (1.1.2)
Caribbean Map as of now is one large file of about 850MB. You can choose either the Premium Link for 1 EUR ($1.20 USD) where you will skip ads and get a fast download link, or the free version which is ad based on sharemods. The content is the same in both download methods. Your fees for the premium download will help support our server expenses and go to the expansion of TerraMaps such as models and buy a few beers for developers.
https://terramaps.net/download/
---
STEP 2: COAST 2 COAST
Caribbean map is dependent on C2C (Coast 2 Coast). Download the latest version of C2C here:
https://forum.scssoft.com/viewtopic.php?f=194&t=202317&sid=5ee762245edbb0ccb28eee932737f2c1
---
STEP 3: BACKGROUND MAP
In order to be able to freely move around the world map and see cities and roads where they should accurately be, we work with multiple background maps depending on your preference. Either way, you need to have a background map installed to freely move to the southern Caribbean areas and to see islands accurately placed. Choose one below:
ProMods High Quality Background Map for ATS (Now Includes HAWAII For Pacific Map):
Satellite (Bengan) Background Maps:
https://roextended.ro/forum/viewtopic.php?f=9&t=20
---
STEP 4: LOAD ORDER
If you chose the vanilla version, make sure DEF/MAP is above ASSETS in your mod manager and
below
any steam workshop mods, background maps, and other non map mods.
If you chose our flagship version, use any appropriate load order that works for you, but what we have tested in an official testing environment is:
Background Map
...other mods
Caribbean Map
Coast 2 Coast
Enjoy Caribbean Map by TerraMaps! Should you require any assistance, don't hesitate to reach out to our Support Team:
Discord (use @support):
https://discord.com/invite/kvqE3z3
Email:
[email protected]
Forum:
https://terramaps.net/forum/forums/support.17/
Please only utilize one of the above methods of reaching out to support that you'd prefer. They are all monitored equally, but Discord is proven to be the fastest response rate.
Drive safe and thank you for letting us expand your truck sim today! Happy Trucking!
Last edited: