COO, Admin
Staff member
Admin
Support
Patron
Joined

Apr 4, 2021
Messages

452
Reaction score

225
Location
Website
TERRAMAPS PATREON PROGRAM

​
We are super excited to announce on behalf of TerraMaps that we have rebuilt our Patreon Program and now offer more benefits and tiers!
Are you interested in becoming a Patreon and enjoy TerraMaps culture behind the scenes, interact with fellow Patreon members in our nice closed troll-free community, and enjoy early releases and direct fast downloads? Then continue enjoying our Basic Tier for only $5/mo!
Do you want to fully embrace the TerraMaps culture though? Then we have a great tier for you! TerraGold wil give you a unique icon next to your username on Discord, access to our ALPHA and BETA versions, where you can enjoy areas like Seoul and Medina and other upcoming areas well before the public release, and also give direct feedback on what direction you want to see the project go.
But for those who truly bleed TerraMaps colors and have the TerraMaps logo in their hearts, we offer the TerraPlatinum Tier! These are the shareholders of our organization and will have a direct say in the direction of the organization and will have a very strong connection to our admin and management team members. This tier will also include DEV versions.
All of the tiers will also include weekly map stream sessions with a developer, exclusive only for our patreons, so you will be able to view live our actual development process. Modelers may also stop by as well!
We will start sharing more exclusive screenshots and dev updates with our patreons too, both on a private Discord channel as well as on our Patreon page.
We also offer an annual plan for all tier levels where you will get one month free for Basic, one month and a week free for TerraGold, and one month and two weeks free for TerraPlatinum if you prepay for a year.
Regardless of what tier you choose, all Patreons are truly embraced and welcomed with open arms in our private community behind the scenes!
If a Patreon is too much commitment, or you wish to donate even more to our projects, you can visit
https://paypal.me/terramaps?locale.x=en_US
as well!
Patreons drive our project forward. You are the reason why TerraMaps has grown as the fastest expanding truck sim map modding organization and the more patreons we have, we secure our future as becoming the largest and most popular map modding organization out there! Now is your chance to be part of that growth! Help us reach our goals, and let's work on our goals together!
Join here:
https://www.patreon.com/terramaps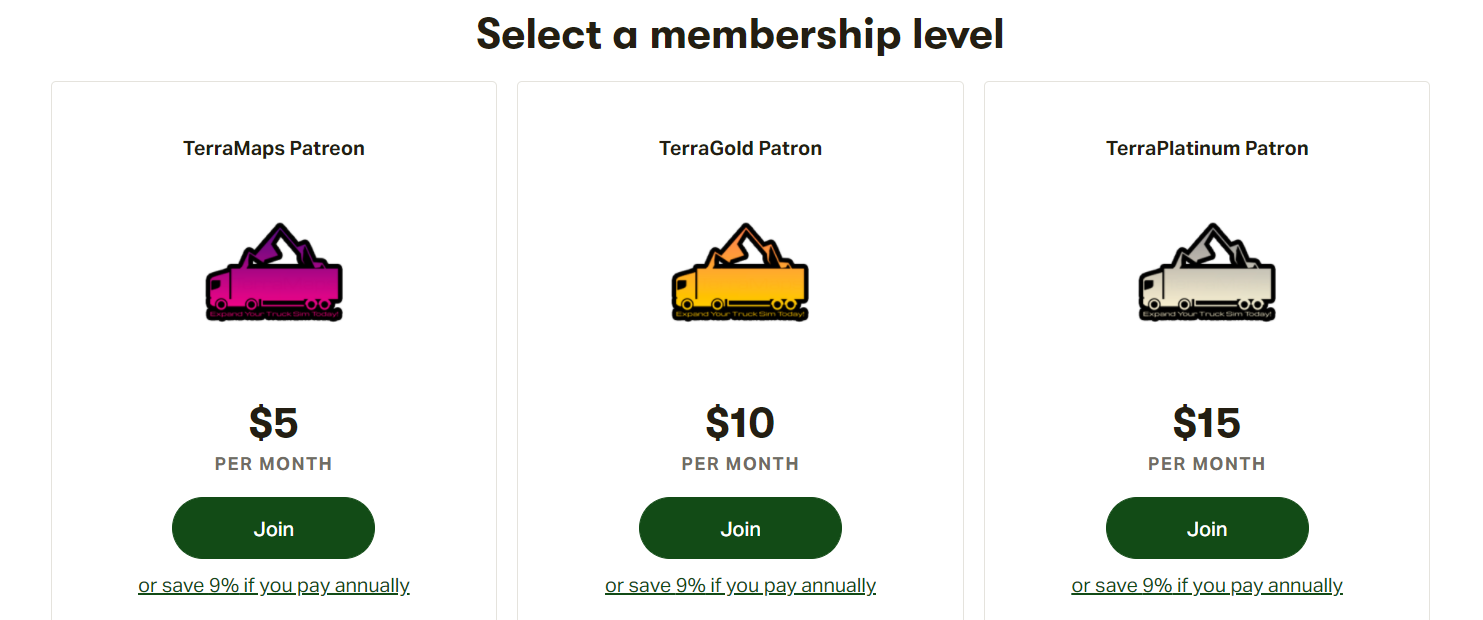 Expand Your Truck Sim Today! :terramaps: